So who are we?
We're Olgi, Adam and our mascots; Freya & Jacob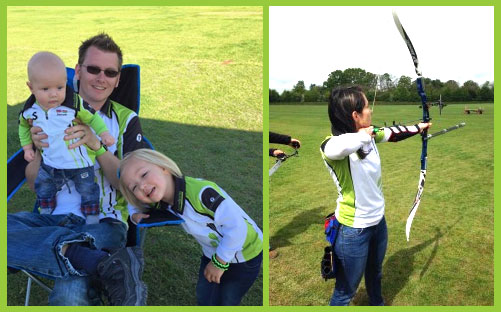 Both of us shoot, Adam since he was 9 and Olgi more recently took up the sport – but is already doing very well winning the clubs ladies recurve indoor champ's.
We started selling simple plain wraps back in 2011 after making them for our own arrows and other club members for some time and identifying a gap in the market.  One question was constantly asked: "Can you print my name on the wraps?"  We didnt like saying no again and again, so found a solution and invested in the technology to do just that.
ArrowSocks as a company was born and has enjoyed great success, achieving what we set out to do and these remain our core aims:
Create off the shelf designs and custom designs people love
Offer quick manufacture and delivery (normally arriving with customers within 48 hours of their order)
Give quick and friendly customer care, be is a simple question or an order that's gone a little wayward!
Sponsor and help aspiring archers